All Solitaire games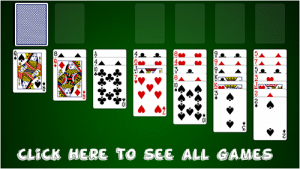 Play solitaire for 100% free. No download or registration needed. Solitaire2play.com has over 100 solitaire games, including Spider, Klondike, FreeCell and Pyramid. 100% FREE, undo support, multiple decks, stats, custom backgrounds and more. Created with HTML5 and JavaScript, this website works great on iPads and tablets too!
Solitaire is an exciting way to pass the time - anywhere, any time. Whether you are at home on lazy day, at the office taking a break, or outside with your laptop soaking in the sun, spice up your day with a game of solitaire.
PLAY

NOW!

Solitaire Quest takes you to a journey of card game challenges under the baking sun of the caribic. The game is ...

PLAY

NOW!

Jewels Blitz 2 is the successor to the match-3 throne, that turns shiny gems and highly addictive puzzle game ...

PLAY

NOW!

Yatzy Aces - The classic dice game is now free to play with exciting game modes! This free dice game offers you ...
PLAY

NOW!

Master Chess Multiplayer is a HTML5 Board Game. Enjoy this stylish version of the classic Chess Game. 3 Game's ...

PLAY

NOW!

We collected some brain and board games that you can play as two player in a single game. We are presenting you ...

PLAY

NOW!

Chess is a two-player strategy board game played on a checkered board with 64 squares arranged in an 8×8 square ...
PLAY

NOW!

The classic Solitaire game. Move all cards to the four top foundations from Ace to King. On the tableau build down ...

PLAY

NOW!

Move all 52 cards to the four foundation spots to win in this challenging Solitaire version!

PLAY

NOW!

Best Classic Freecell Solitaire brings the popular Freecell version of the solitaire card game to the palm of your ...
PLAY

NOW!

Merge 13 is a super fun and addictive logic puzzle game, featuring relaxing gameplay and nice colorful graphics. ...